Nasty Juice Shisha 50ml Shortfill [Inc Nic Shots]
£1400

£14.00

Save £0.99
Tax included.
Shipping
calculated at checkout.
---
---
Nasty Juice Shisha Series
Another signature series created by Nasty Juice. A unique and characteristic range of flavours each one different to the other. This series is inspired by the history of shisha which all began by the Mogul Empire which dates back to the 15th century. Nasty Juice are creating four new exotic and traditional flavours to everyone to love and enjoy. This series will make you feel as if you are in the Sahara Desert enjoying the sun and embracing the culture. Each flavour is juicy and will tantalise your taste buds.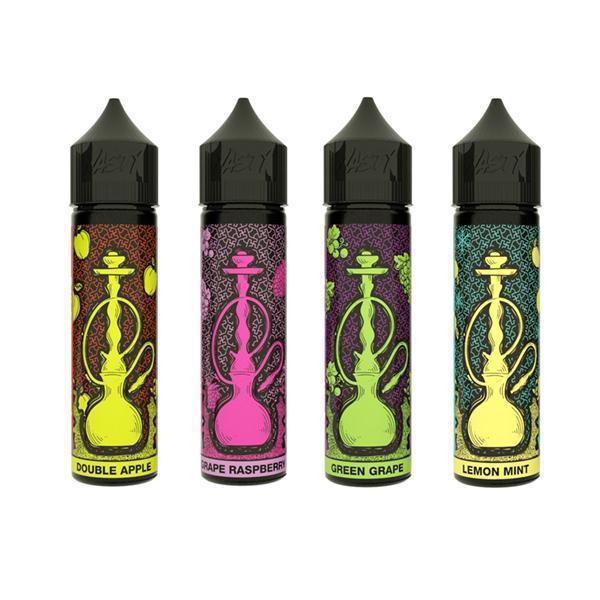 Double Apple
Imagine biting a flavourful red apple. Double the bite with a hint of sour, but with a beautifully juicy green apple. A perfect mix proven in the history of shisha.
Grape Raspberry
Ripe grapes were chosen to get the fruity and earth taste, mixed with fresh sweet raspberry. Together they are like libra, a perfect balance of sweet and freshness.
Lemon Mint
Juicy citrusy lemon feels, the classic sour lemonade combined with a bit of sweet minty cold sensation. A perfect balance of mint and lemon.
Green Grape
Crisp and sweet flavour. The combination of crisp texture with a pop of sweetness has made this a tasty edition to our shisha recipes.
With all of these fantastic flavours to choose from it can be hard to pick where to start! Consider our multi buy deals to save and try a couple of flavours at the same time! Nasty Juice Shisha is the perfect juice to sit back and relax with!
The Nasty Juice Shisha range has been greatly popular since we got it in store and for good reason! Give it a try as soon as tomorrow with our next day delivery option!
Free Nic shot with every bottle!